Valet Parking for Events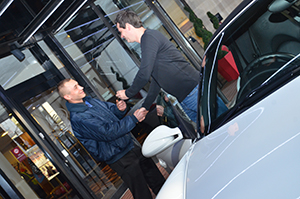 We offer a professional, friendly valet parking service for any type of event. We cater for everything from a small dinner party in the city centre to a wedding, or large corporate event, formal or informal.
Experienced Valet Parking Team For Events
At Car Spa Logistics we have a team of experienced valet parkers who will assist your guests with their parking. This service is a must if you have a large number of guests arriving at the same time. Valet parking is really useful if your parking area is some distance from your venue.
Eliminate any fuss or tension that could be caused as your guests try to find a suitable place to park their car. Providing a valet parking service for your guests will help to eliminate congestion.
Valet Parking Services For Large Events
Our valet parking services for large events usually include parking coordinators and traffic marshals. Our valet parking team will ensure that your guests gain speedy access to your venue, avoiding traffic congestion.
For large events, we can also provide barriers and cones if required. For large events, we operate a ticketing system to ensure that there is no confusion when your guests return to collect their car. Our aim is to provide a service that runs seamlessly. Our events valet parking service not only provides an excellent and very important front of house impression but also helps to ensure the safety of your guests and their cars.
Reasons Why You Should Choose Car Spa Logistics To Provide Valet Parking For Your Events
High quality recommended service
Removes the irritations associated with parking for your guests
Your guests are met by a chauffeur who will take their car to a secure parking facility – peace of mind
Your guests vehicle will be returned to them at a pre-arranged, convenient time
No stress for your guests
Ideal for women travelling alone, the disabled and elderly
Your guests will not be waiting around outside your venue
Reduces overall queuing time
We are recipients' of the Park Mark Safer Parking Award and British Parking Association
Creates a good impression